The reason for why the loan amount on the credit loans don't really go down despite making the monthly payments, and why refinancing can pay off, is what we'll take a closer look at.
When you apply for refinancing, you're applying to gather existing loans in return for the advantages of one bigger loan. You distribute the down payment over a longer term, and get a better interest rates and fewer fees.
Here's why:
Loans and credit cards come with fees, like for example an establishment fee, invoice fees, term fees, late fees, and collection letter fees. In the cases involving several loans, the total sum of all the fees becomes needlessly high.


Many loans often have different interest rates and different due dates. Credit cards and small loans also often have a higher interest rate than traditional consumer loans, since these are meant as short term loans with a shorter repayment period. If you then for example pay the minimum amount on these loans, they'll end up costing you a lot more in the end due to the high interest rate.
By covering old debt through refinancing and gathering everything into one loan, you can save a lot over a repayment period of for example five years, since you get a better interest rate, fewer fees, and better terms.
In addition, having all your debt gathered into one loan gives you a better economic overview. Instead of having many different bills with different due dates, with one loan you only need to think about this loan. In this manner you might get the opportunity to reprioritize monthly expenses, so that you can pay back your debt quicker.
When applying for refinancing through Axo Finans, we will get offers from many different lenders, so that you can the best loan offer without security. We do this by sending your loan application to our partners. The lenders make an assessment based on your information and your credit score, and since they all compete for you as a customer, they will also offer you their best interest rate based on your information. In this way we can give you the best offer you need for refinancing to be as beneficial as possible.
Consumer loans

When you apply for refinancing of debt through Axo Finans, you're applying for an unsecured consumer loan. That means the lender you choose to take out a loan with can't take any security in your assets in the case of default. The advantage of applying for an unsecured loan is not having to worry about the lender having security in anything you own, and that you can apply without owning anything.
Some people experience that the interest rates of consumer loans are somewhat higher than traditional loans with security. The higher interest rate is due to the lender needing some form of security to avoid loosing capital in the cases where one or more customers don't pay back. The interest rate thus ensures that the lender does not run a deficit.
When we're talking about consumer loans, we're normally talking about two types of interest rate: nominal and effective interest rate. It could be advantageous to know how the different interest rates work to see the benefits of gathering all your loans. We'll take a closer look at what these interest rates mean below.
Read more: Personal loans
Effective and nominal interest rate
The yearly nominal interest rate is the base rate of the loan. It does not comprise all the costs of a loan. This rate is market-based, as well as based on an individual credit assessment made by the lenders processing your loan application. They also look at your credit history. This means we can't tell you anything about what interest rate you'll get offered before you've sent in your application.
The effective interest rate consists of the nominal interest rate with the addition of all other fees, like for example term fees. It's due to the effective interest rate you can make things cheaper for yourself by transferring the entire credit debt to one loan. In the long term you'll be able to save money by gathering your loans, since you're avoiding expensive and unnecessary fees, as well as getting a better nominal and effective interest rate.
What are the benefits of borrowing through Axo Finans?

You can apply to take out a loan of between 10 000 and up to 500 000 NOK. You decide yourself what to spend the money on. If the purpose of the loan is to gather existing loans, check off for this in the application, and we'll help you pay back old debts. Our loan brokerage service doesn't cost anything, and the service works in the same way as if you were to contact all the lenders and banks yourself.
You can select a repayment period of up to 15 years, but you can pay back as much as you want at any time without any extra costs.
By applying with many lenders at the same time, we can compare many loan offers, so that you can choose the loan which suits you best. Our partners compete for you as a customer, and this results in a lower interest rate. Thus you'll get a better interest rate by applying through us.
If you choose to accept a loan offer, you can sign with BankID. This means you'll get the loan within a couple of days.
Everyone can apply, but to get the loan granted you need to fulfill the minimum requirements:
You must be at least 23 years old
You need a registered income
You must not have any active debt collection cases
How to apply for refinancing through Axo Finans?
It's easy to apply by filling out the information we require in the loan application>. Here you'll need to fill out information about things like how much you wish to take out a loan for, your desired repayment period, and whether you want refinancing to gather existing loans. Remember that you can choose to pay back the loan in a shorter time than the selected repayment period, should you eventually want to do so.
After you've sent in your application, you'll get a reply quickly. If the loan is granted, our experts will consider the best loan offer, and present this to you.
Applying for refinancing through us is safe, simple, and quick. We're approved as a loan broker, have a high Trustpilot score, and many satisfied customers who tell us they've experienced a safe application process.
Who is Axo Finans?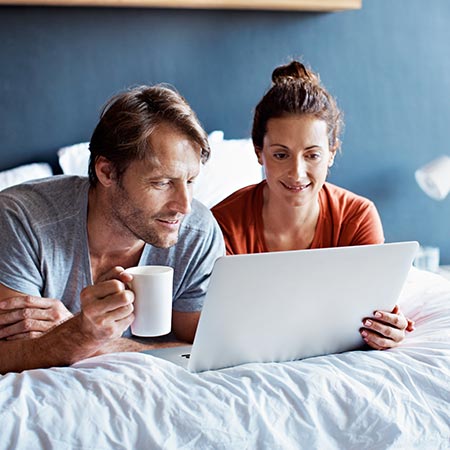 We are one of Norway's best loan brokers, and through us you can take out a loan for between 10 000 and up to 500 000 NOK without security. We present your loan application to many different banks and lenders at the same time. You thus don't have negotiate with the lenders yourself. We do this job for you. In this way you ensure the best loan offer without having to do anything other than filling out an application.
The application is cost-free and noncommittal. We make loans easy for you!
Do you have questions about refinancing? Then contact us via our contact form today.